Hi !
I can't find my 1920x1080 screen resolution, I've tried everything and can't get it.
I also installed nvidia-driver and nvidia-settings and can't do anything either.
I have an intel i5-9400 and a Nvidia GeForce GTX 1650 graphics.
I couldn't solve it from here either. ↓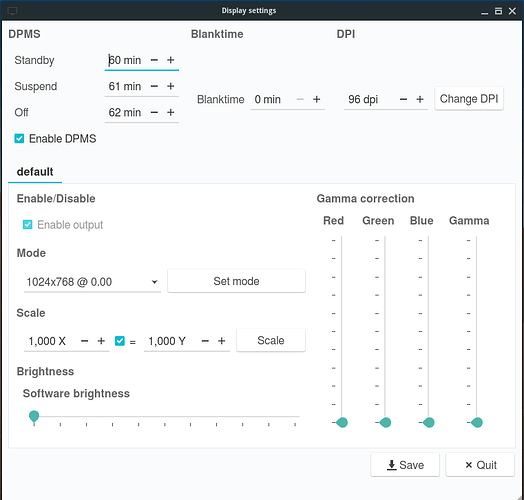 judd@NomadBSD:~% grep vesa /var/log/Xorg.0.log
[    73.754] (II) LoadModule: "vesa"
[    73.784] (II) Loading /usr/local/lib/xorg/modules/drivers/vesa_drv.so
[    73.786] (II) Module vesa: vendor="X.Org Foundation"
[    73.898] (II) VESA: driver for VESA chipsets: vesa

judd@NomadBSD:~% grep kld_list /etc/rc.conf
kld_list="cuse4bsd"

judd@NomadBSD:~% kldstat | grep i915kms.ko
judd@NomadBSD:~%


judd@NomadBSD:~% xrandr
xrandr: Failed to get size of gamma for output default
Screen 0: minimum 640 x 480, current 1024 x 768, maximum 1024 x 768
default connected 1024x768+0+0 0mm x 0mm
   1024x768       0.00* 
   800x600        0.00  
   640x480        0.00  

# pciconf -lv | grep -A4 vgapci
vgapci0@pci0:1:0:0:	class=0x030000 rev=0xa1 hdr=0x00 vendor=0x10de device=0x1f82 subvendor=0x1458 subdevice=0x3fca
    vendor     = 'NVIDIA Corporation'
    device     = 'TU117 [GeForce GTX 1650]'
    class      = display
    subclass   = VGA

/var/log/messages → https://pastebin.com/raw/pfVgKGee


judd@NomadBSD:~% freebsd-version -uk
13.0-RELEASE
13.0-RELEASE

Thanks, as always !