Any other mirrors besides the ones listed? they're unbearably slow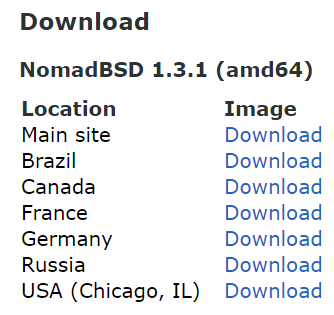 btw: USA (Chicago-IL) isn't working.
Hi @RogerW,
thanks for the hint. The USA mirror is working again.
Hi @Ein_User,
thank you for letting us know. Mirror links removed.
With the whole world using the Internet more than normal slowness is expected. My mirror is off a 1GB connection and at times it is slow.
The Chicago Mirror is donated I do not need too or am I getting economical gain to provide the mirror. The fact that the whole world is on lockdown and people are complaining of slow mirrors amuses me.
You're welcome!
I learned of Nomad watching a YouTube video on Explaining Computers.
I was very impressed with the UI, simplicity and speed but I haven't been able to use it.
The mouse cursor doesn't show and no wi-fi connection.
I'm new to BSD and have no experience with Linux.
Would you be so kind to write a tutorial for beginners? mainly on how to solve these two issues.
Everything else seems to be working just fine.
Thanks in advance, regards.
Not really a how-to required. If you're HW isn't supported it's either wait for it, program it yourself or buy a USB dongle that is supported. I have been using BSD for 27 yrs and it is my go to OS for almost everything but I have to admit hardware support especially for Wifi is slim, as fare as I remember only 1 person does the Wifi stuff. While Linux has full blown companies supporting it BSD just one. users who want to get it done and then submits the code to the world. This is why I personally don't recommend it for the Desktop. You have to be realistic in regards to this and sadly FreeBSD doesn't have the hardware support to make a desktop OS seamless without a lot of tinkering and getting things to work. I have used most Desktop based OS flavors and they all fail in regards to Wifi this isn't no ones fault but the big companies failing to provide documents that make making a driver quick and easy, without these documents creating drivers is more of a hack than anything. My recommendation is to run approps wifi and find a USB dongle that is supported mainly based on the Atheros chip as Realtek is just garbage. You are not alone my Intel 9565 Isn't supported, however it is in OpenBSD. Current does not work.
I don't recall asking you! anything…

Why so harsh? The point of this forum is that users can help each other, and everybody is free to answer. @cpet tried to help you, and I pretty much agree with what he wrote. Many of us are stressed these days, so let us all do our best to maintain a polite tone

Well…, he was the one "amused" at my complain, just returning the favor.
This is why I don't do OSS stuff any more.