Caution!!!
fstab auto-modified after trying to format crypto android microsd /dev/da0
Device Mountpoint FStype Options Dump Pass#
/dev/da0a / ufs rw 1 1
proc /proc procfs rw 0 0
tmpfs /tmp tmpfs rw,mode=1777,late 0 0
/dev/da0b none swap sw 0 0
/dev/gpt/nbsdswap swap swap sw 0 0
marcdat@NomadBSD ~> gpart show ada1
=> 34 468862061 ada1 GPT (224G)
34 6 - free - (3.0K)
40 1024 1 freebsd-boot (512K)
1064 81920 2 efi (40M)
82984 984 - free - (492K)
83968 8192000 3 freebsd-swap (3.9G)
8275968 460584960 4 freebsd-zfs (220G)
468860928 1167 - free - (584K)
marcdat@NomadBSD ~> df -h
Filesystem Size Used Avail Capacity Mounted on
zroot/ROOT/nomadbsd-5806f915 211G 28G 183G 13% /
devfs 1,0K 1,0K 0B 100% /dev
procfs 4,0K 4,0K 0B 100% /proc
zroot/usr/obj 183G 96K 183G 0% /usr/obj
zroot/usr/ports 183G 96K 183G 0% /usr/ports
zroot/usr/src 183G 96K 183G 0% /usr/src
zroot/var/log 183G 448K 183G 0% /var/log
zroot/usr/home 183G 96K 183G 0% /usr/home
zroot/var/audit 183G 96K 183G 0% /var/audit
zroot/var/crash 183G 96K 183G 0% /var/crash
zroot/var/mail 183G 120K 183G 0% /var/mail
zroot/var/tmp 183G 96K 183G 0% /var/tmp
zroot/usr/ports/distfiles 183G 96K 183G 0% /usr/ports/distfiles
zroot/usr/ports/packages 183G 96K 183G 0% /usr/ports/packages
tmpfs 4,7G 8,0K 4,7G 0% /tmp
Geom name: ada1
Providers:
Name: ada1
Mediasize: 240057409536 (224G)
Sectorsize: 512
Stripesize: 4096
Stripeoffset: 0
Mode: r2w2e5
descr: INTEL SSDSC2BW240A4
lunid: 55cd2e404b4353e3
ident: BTDA332406XL2403GN
rotationrate: 0
fwsectors: 63
fwheads: 16
marcdat@NomadBSD ~> camcontrol devlist
at scbus4 target 0 lun 0 (ada1,pass2)
As you can see in fstab the mount point / started to point to /dev/da0a (microsd)
How could this happen?
Best wishes,
Marcelo
I just found out why fstab was modified, when using sade #sudo sade > auto , it automatically changed by pointing the "/" and "swap" to /dev/da0
Be very careful when using sade to format external devices!!!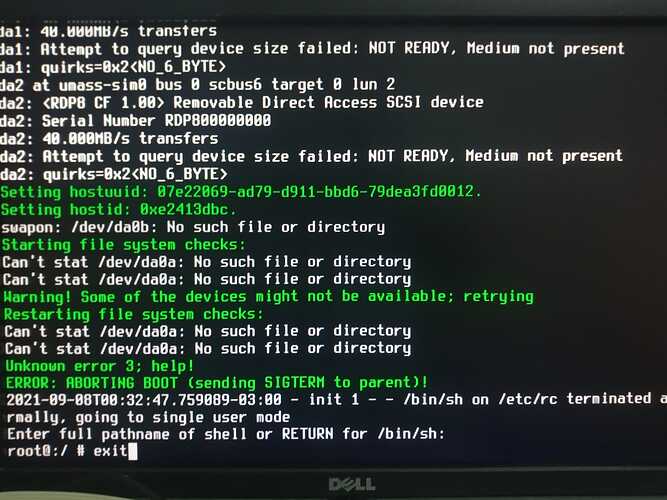 Solved by commenting the two lines that pointed to /dev/da0a and /dev/da0b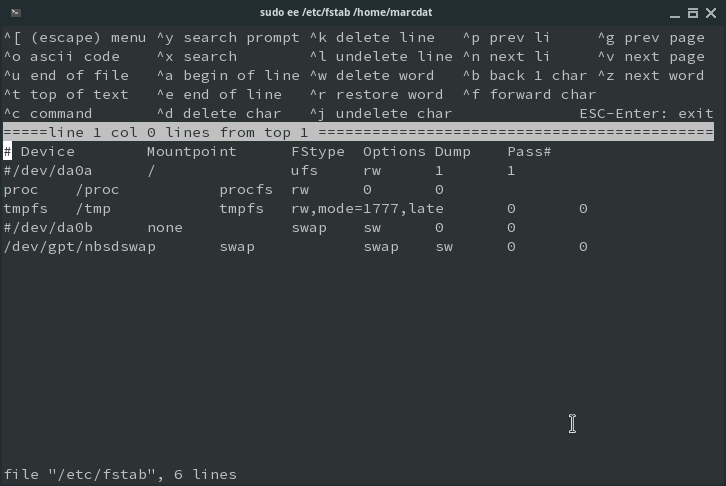 My data recover LAB is back!!!